Special Offers / Angebote Black Friday / Voici le liens pour Black Friday SALE:
Black Friday Sale: open from Thursday 26. November 2020, at 00:00 Hours


until Wednesday: 2. December 2020, 24:00 Hours. All offers are strictly subject to prior sale. Available while supply lasts.
Please order/inquire per simple email to info@gotham.ch emails will be answered by the order of receipt.
---
All headsetmicrophones, Omni and Cardioid, all acessories 50% off towards retail prices in CHF
---
WM110 2.4GHz Microphone System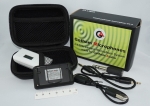 50% off
---

50% auf Meterware
/
per Meter bulk cable offers see list
Special sale list :
---
50% auf konfektionierte Lagerware / Madeup leads stock list
---
Laser Messsystem / Pro Laser Ruler/Measurment device 50% off
---
50% towards our alreday much reduced liquidation items.
---
Please send an Email and we contact you at once! Messages from Saturday/Sunday will be answered after Monday December 2.