AP Thermoplastic type solder
AP Series Thermoplastic type solder

Typ

CHF
Pro Stück
exkl. MwSt.

AP-4-11, AP female cable connector, machined contacts, thermoplastic black shell (4 pole)
SFr. 23.70
AP-4-12, AP male cable connector, machined contacts,
thermoplastic black shell (4 pole)
SFr. 17.65
AP-6-11, AP female cable connector, machined contacts, thermoplastic black shell (6 pole)
SFr. 28.30
AP-6-12, AP male cable connector, machined contacts,
thermoplastic black shell (6 pole)
SFr. 19.15
AP Series
Thermoplastic Shell
Loud Speaker Cable Connectors
The AP Series provides the same power handling performance as the EP Series in a cost effective, yet durable Thermoplastic housing.
Read More »
Male
Thermoplastic Shell
Female
Thermoplastic Shell
Features
Solder Bucket connections
Precision machined contacts
Thermoplastic Housings
High current contacts
Technical Documentation (PDFs)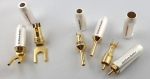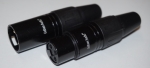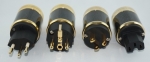 Preisstellung: Terms & Conditions:
Abholpreise in CHF (Schweizer Franken),
Nettopreis
,
per Stück
/Paar/Set, inkl. 7,7 % MwSt., Franko Dietikon (Schweiz). Zuzüglich allfällige Verpackungs & Versandkosten. Preis- und Produkteänderungen bleiben vorbehalten! Konditionen und Mengenrabatte auf Anfrage. Garantie 24 Monate bring-in/take-out exkl. Verschleissteile. Händlerkonditionen auf Anfrage.
Indicated prices are in CHF (Swiss Francs)
. ex works Dietikon Switzerland. Special net prices and terms, dealer and export prices are quoted in short notice.
Please send email to info@gotham.ch
---