A linear contact microphone for instruments
Next generation microphone technology from the heart of Sweden.
---
EAP-System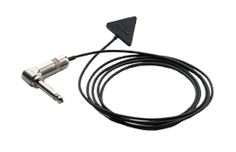 Link to the factory Info:
Bild
Typ
Beschreibung

Neu Mai 23


Verkaufspreis
EAP-System Battery
system
System mit Pickup, Vorverstärker mit Batteriebetrieb. (9V Batterie eingebaut) mit TSR Anschluss I/O



SFr. 540.80

Set Preis

EAP-Phantom P48 XLR
Preamp System
System mit Pickup, Vorverstärker für P48 Phantompower Betrieb.
TSR Input
XLR output
SFr. 540.80
Set Preis
EAP-Phantom P48 XLR
Preamp only


Link to the factory Info:
SFr. 294.60
einzeln
EAP-Pickup only
Pickup mit TSR 1/4" Jack (Mono)
Pickup mit XLR auf Anfrage.
SFr.270.50
einzeln
EAP- Battery Preamp TSR only
1/4" Jack Eingang/Ausgang Vorverstärker inkl. eingebauter 9V Batterie (Block)
SFr. 294.60
einzeln

PICKUP
A linear contact microphone for instruments with an acoustic sound box
The Ehrlund Acoustic Pickup (EAP) is a linear contact microphone for instruments with an acoustic sound box such as the guitar, violin and double bass.
A linear microphone means the pickup reproduces a flat frequency response. The EAP Pickup captures the vibrations in the acoustic instrument, which enables the microphone to deliver very good separation even in normally "impossible" environments where the other musicians are generating high sound levels on their respective instruments.
Every instrument is unique and finding the right location for the best sound is a matter of trial and error. The EAP Pickup is easy to move around between different instruments.It is simple to attach to the sound box with adhesive putty. You can even mount the pickup on the inside of the instrument through the sound hole.
---
PREAMP
The Ehrlund Preamp has extremely low self-noise and low power consumption. It is optimized for use together with the EAP Pickup. It has the power to drive most accessories arising, such as foot pedals, effects pedals and Di-boxes with transformers.
The preamp comes with belt clips for easy attachment to the waistband. It is powered by a 9-volt battery, has an extended operating life of 600 hours and disconnects itself when the output cable is unplugged. The preamp has adjustable volume control, high/low-level switch and phase switch to avoid acoustic feedback during live performances.
---
FUNCTIONS
VOLUME Control
INPUT 6.3 mm jack plug
OUTPUT 6.3 mm jack plug. The battery will be cut off as soon as the cable is disconnected.
PHASE The phase changing shift stops the soundboard of the instrument from resonating and therefore prevents feedback. I.e. when using monitors the phase shift possibilities avoid that the monitor speakers counteract to the vibrations of the instrument. The immediate effect is that the sound will be better.
HIGH/LOW High and low input adjustment.
POWERED Standard 9 volt battery that will last for at least 600 hrs
The Preamp is extremely quiet. It can also be used by electrical guitar for direct input to a mixer table.
---

Gesamtkatalog Download
---
Preisstellung: Terms & Conditions:
Abholpreise in CHF (Schweizer Franken),
Nettopreis
,
per Stück
/Paar/Set, inkl. 7,7 % MwSt., Franko Dietikon (Schweiz). Zuzüglich allfällige Verpackungs & Versandkosten. Preis- und Produkteänderungen bleiben vorbehalten! Konditionen und Mengenrabatte auf Anfrage. Garantie 24 Monate bring-in/take-out exkl. Verschleissteile. Händlerkonditionen auf Anfrage.
Indicated prices are in CHF (Swiss Francs)
. ex works Dietikon Switzerland. Special net prices and terms, dealer and export prices are quoted in short notice.
Please send email to info@gotham.ch
---