PM-2 Headphone
NEW: PM-2 Planar Magnetic Headphones


Proprietary Planar Magnetic Technology Life-like, Natural Sound Quality, High Sensitivity & Scalability Plush Padding & Reduced Weight for Exceptional Comfort
PM-2
Planar Magnetic headphone
---
Help Me Choose:
Understanding the differences between the PM-1 & PM-2
.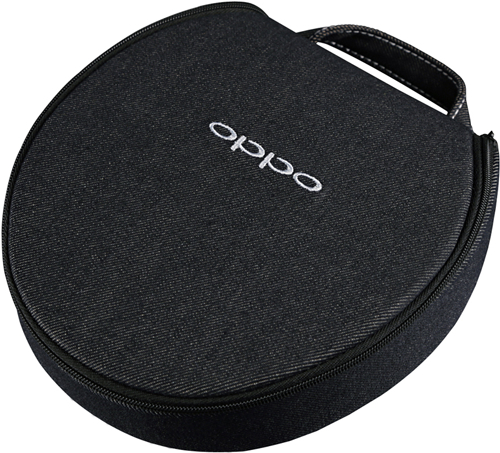 ---
Loud and Clear yet comfortably light
The OPPO PM-2 Planar Magnetic headphones are characterized by a distillation of the OPPO PM-1's key acoustic and industrial design features into a more affordable price point. Similar to the OPPO PM-1, the PM-2 is characterized by its natural, dynamic, and engaging sound quality with an emphasis on comfort and reduced weight. The PM-2 uses the same driver as the PM-1, and the same technological breakthroughs are present in the PM-2: the use of a unique 7-layer diaphragm, double-sided spiraling coils, and an FEM-optimized magnet system.
FEM-Optimized Magnet System

- An FEM-optimized magnet system with very high energy Neodymium magnets is used to maximize sensitivity and consistency of the applied force over the driver area.

High Sensitivity

- Many planar magnetic headphones have a sensitivity far below 100 dB and require very powerful amplifiers to drive. The OPPO PM-2 has a sensitivity of 102 dB, which allows it to pair well with both mobile devices and scale upwards when used with high end headphone amplifiers.

Build Quality

– The OPPO PM-2 is ruggedly constructed with an emphasis on long term use and maximum consistency from unit to unit. The headphones have been tested to very high standards to withstand mechanical and environmental stress in order to guarantee exceptional performance throughout its lifespan.

Comfort

- Many planar magnetic headphones weigh over 500 g and are often viewed as being uncomfortable. With a weight of 385 g, the OPPO PM-2 strikes a delicate balance between weight, comfort, and elegant industrial design.

Quality Materials

– The OPPO PM-2's ear cushions are made out of the highest quality natural latex, which is superior to and longer lasting than any chemically formulated foam. It is naturally hypoallergenic, retains its mechanical spring-like properties for much longer periods, and resists moisture build up from sweating. The headband and earpads are made of carefully selected synthetic leather material.
Easily Replaceable Components

– The OPPO PM-2's earpads are mounted on rubber inserts that can be easily cleaned or replaced. This design maintains compatibility with the PM-1's earpads and makes trying out the PM-1's lambskin and velour earpads nearly effortless. The headphone cable is detachable and uses 2.5 mm mono mini jacks to connect to the earcups, making it easy to switch between the longer, 6.35 mm terminated cable for home use, and a shorter, 3.5 mm terminated cable for portable use.

Premium Accessories

– The 6.35 mm terminated headphone cable features Oxygen Free Copper (OFC) construction wrapped in a black fabric sleeve. A slimline selvedge denim carrying case is also included to allow for easy transportation on the go.

Selvedge Denim Carrying Case

– The selvedge denim carrying case included with your OPPO headphones is manufactured using vintage shuttle looms by a supplier for a number of boutique clothing brands based in Europe and Japan. The material is a stylish, high-end fabric that is prized for its ability to weather the elements and develop a unique aesthetic character over time, and the slim design of the case is a perfect match with the PM-2's ability to fold flat, allowing the headphones to fit easily within a backpack or briefcase.
Specifications
Designs and specifications are subject to change without notice.
Headphone Specifications

Acoustic Principle
Open back
Ear Coupling
Circumaural
Nominal Impedance
32 Ohm
Sensitivity
102 dB in 1 mW
Clamping Pressure
5 N
Cables
3 m detachable OFC cable (6.35 mm)
1 m detachable OFC cable (3.5 mm)
Cable Connectors
Output: 2.5 mm mono mini jacks
Input: 6.35 mm stereo jack, 3.5 mm stereo jack
Weight
385 g (without cable)
Included Accessories
Carrying Case
User Manual

Driver Specifications

Driver Type
Planar Magnetic
Driver Size (Oval)
85 x 69 mm
Magnet System
Symmetric push-pull neodymium
Frequency Response
In Free-Field
10 - 50,000 Hz
Long-Term
Max Input Power
500 mW according to IEC 60268-7
Pulse Max Input Power