CHAmp Stage Hi-End PA System 150 Watt w. Blue-Tooth
Bild

Typ

Beschreibung

Netto Verkaufspreis
in CHF
inkl. 7.7 % MwSt.

CHAmp-Stage

PA System 150 Watt Musikleistung. Komplett UHF Funkmik Handheld, Akku, Ladesystem 220v mit Netzkabel, Zubehörtasche. Mediaplayer mit Blue-tooth uvm.

Gesamtgewicht: ca. 8.00 Kg

SFr. 899.00


Preisstellung: Terms & Conditions:
Abholpreise in CHF (Schweizer Franken), Nettopreis, per Stück, inkl. 7,7 % MwSt., Franko Dietikon (Schweiz). Zuzüglich allfällige Verpackungs & Versandkosten. Preis- und Produkteänderungen bleiben vorbehalten! Konditionen und Mengenrabatte auf Anfrage. Garantie 24 Monate bring-in/take-out exkl. Verschleissteile. Händlerkonditionen auf Anfrage.
Indicated prices are in CHF (Swiss Francs). ex works Dietikon Switzerland. Special net prices and terms, dealer and export prices are quoted in short notice. Please send email to info@gotham.ch.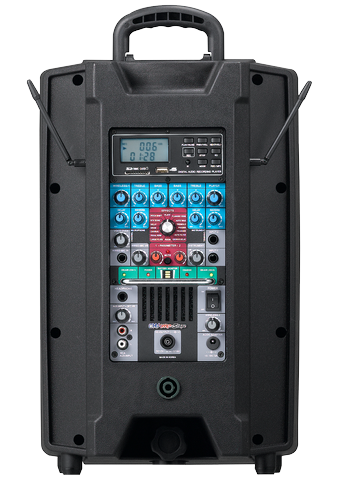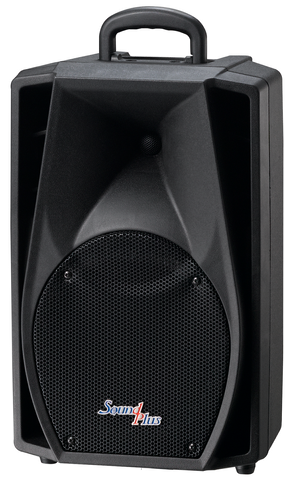 RMS 150-Watt Portable Wireless Amplifier with 16-Ch DSP & USB/SD-Card/Bluetooth/Recording player
A complete, All-in-One wireless PA sound system offering professional quality wireless transmission
USB, SD-Card, AM/FM, Bluetooth, Recording player with LCD display
16-Ch digital DSP with individual control of parameter-1 & parameter-2 including DSP mute function
VHF 200MHz 16-Preset Ch wireless for transmission of approx. 100 feet for virtually any application
Real unique and multiple application of wireless mic, corded mic, guitar mic and instrument mic.
Luxury 8" super woofer in combination with powerful Nd tweeter
Independent dual type 2-tone control of treble & bass individually for mic and instrument sound.
Independent dual type delay & reverb individually for mic and instrument sound.
Battery monitoring indicator by 5 array LED showing the battery level
Low battery warning by flashing of the last level LED of the battery monitoring 5-array-LED
Adjustable Voice-priority function allows all the microphones to override any internal sound source.
DC-output jack to use external electronic device under limited power consumption
Speakon terminal connection for external speaker to boost total output power approx. 30%
Separate volume controls for cordless & corded, guitar/instrument mic and aux-in function
Built-in rechargeable Maintenance-free sealed acid battery runs extremely long operation
Elegant tailored design of sound box and separate carrying padding caster bag.
ABMR

(Automatic Battery Monitoring & Recovery) to protect built-in rechargeable battery
Output : RMS Max. 150Watt Mic. inputs : 1 x wireless mic / 1 x wired mic / guitar mic / 1 x instrument mic (Option: 2 x Wireless mic.)
Operation : Approx. 5 ~ 6 hours, continuous (Depends on operating condition)
16-Ch DSP : Plate, Flanger verb, Auto wah, Tremolo, Phaser, Flanger, Auto filter, Chorus delay, Room, Large plate, Vocal plate, Chorus, Drum, Delay, KTV echo & Pitch shift Volume : Simultaneously controls wireless mic, wired mic, guitar mic, instrument mic, aux-In & media player Tone : Dual tone control of 1 x Treble / 1 x Bass, ±12dB for mic and instrument sound Echo : Dual tone control of 1 x Reverb / 1 x Delay, for mic and instrument sound respectively. Voice-over : Delay time: 0 ~ max. 1.5sec. / Level: 0 ~ 100% Aux. : 1 x Aux-In(RCA-L/R) with Volume control Speaker : Powerful 8" woofer + Nd tweeter Battery : 12V/7A Maintenance-free, Sealed-acid Rechargeable Battery-out : 1 x DC Jack (DC12V/use ≤1AH only) Adapter : SMPS AC100-240/DC15-16V/2A Charging : Approx. 8-hours Weight : Approx. 8Kg, Nett Dimension: 230(D) x 280(W) x 440(H)mm
Frequency: vHF 200MHz Fixed-Ch RF Output : 10mW (Depends on regulation) Microphone:Hand-held or Belt-pack (w/Lapel) microphone – Please choose one !
Media : MP3, USB, SD-Card, FM/AM, Bluetooth & Recording Memory : Supports USB stick: 64GB & SD-Card: 32GB Bluetooth : V3.0 +EDR, 2.4GHz ISM Band
Special Note for

ABMR

(Automatic Battery Monitoring & Recovery)

All SoundPlus amplifiers are armed with ABMR which continuously monitors the battery and automatically turns off the amplifier if voltage drops to a dangerous level. But system can instantly recover by switching on the supplied AC/DC adapter.